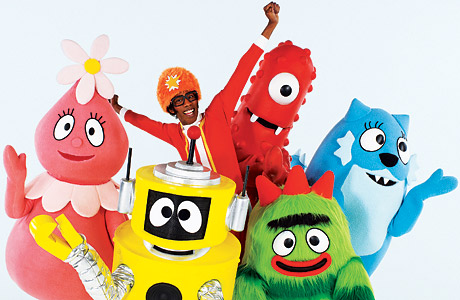 Jude doesn't watch much TV. Usually we're always on the go but on the rare occasion I'm feeling lazy or the weather isn't cooperating the DVD player is my BFF.
Now the first year in our townhouse we had free cable but then one random day the cable company wised up and left us searching for our antenna. Luckily we have a huge selection of DVDs, and a Netflix subscription so we'll survive. But before we lost our cable we discovered Noggin and Nick Jr. Those channels you usually skip over if you're not a parent. Jude's favorite part of Noggin was
Moose A. Moose
and the songs between shows. If they made a DVD of just those songs I think it'd sell like hotcakes! He also took a liking to
Yo Gabba Gabba
, mostly because mom and dad took a liking to it.
I mean seriously, this show is pure genius. It not only appeals to 1 year olds but also 31 year olds. If you have to watch a tv show 25,038 times you need to pick something with songs you don't mind humming all day, every day. With special guest like Jack Black, The Ting Tings, The Shins, Amy Sedaris and Biz Markie what's not to love.
We own 2 YGG DVDs and 1
Nick Jr. DVD
with an epidsode of YGG. Jude knows where these DVDs live. He also knows how to turn on the TV, DVD player and receiver. He turns everything on and dances around with the DVD case in hand until I turn the show on. (Right now he's turning on the DVD player.) To most people "GaGa" is just a typical sound that babies make but in our house it means serious business.